Welcome to Ashimoto ni wa Shitai ga Umatteiru Wiki!
The unofficial wiki for the Sakurako-san no Ashimoto ni wa Shitai ga Umatteiru its anime series adaptation.
This is wiki was made so that we can share some of the information and all your go to needs for the series.
Also spoilers ahead!!!!
Right now we are looking to add more synopis and story points for the episodes,
please feel free to add and or edit the pages that are made!
Story
Sakurako Kujō is a genius beauty whose life is centered around one and one thing only and that is bones. With little tolerance for others, she would becompletely isolated in her study full of skeletons if it weren't for high school boy Shotaro—her new assistant and constant companion. Why exactly she has taken a shine to him remains a mystery, but one thing is clear: Whenever the two go out together, the chances are high that they will come across a human corpse.
Content
About
(櫻子さんの足下には死体が埋まっている Sakurako-san no Ashimoto ni wa Shitai ga Umatteiru?) is a Japanese mystery novel series written by Shiori Ōta, with illustrations by Tetsuo. Kadokawa Shoten has published eight volumes since 2013 under their Kadokawa Bunko label, with over 600,000 copies in print. An anime television series adaptation by Troyca aired in Japan between October and December 2015.
An anime adaptation by Troyca aired in Japan between October 7, 2015 and December 23, 2015 and was simulcast by Crunchyroll. The opening theme is "Dear Answer" performed by True while the ending theme is "Uchiyoserareta Bōkyaku no Zankyō ni" (打ち寄せられた忘却の残響に The Reverberation of a Washed Up Oblivion?) by Technoboys Pullcraft Green-Fund feat. Yuki Ootake.
Websites
-http://sakurakosan.jp/ Official Site (Japanese)
-http://www.animenewsnetwork.com/news/2015-05-15/a-corpse-is-buried-under-sakurako-feet-tv-anime-fall-premiere-sta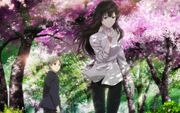 Community content is available under
CC-BY-SA
unless otherwise noted.